Real Mechanical Feel
Almost all membrane keyboards are advertised as having a mechanical feel, but not all keyboards do. K900 membrane keyboard features a crater structure that is closest to the mechanical feel and features a high-quality conductive film that has been tested for 1,000,000 presses, providing resistance similar to red switches. Its 2ms response time is the fastest in non-mechanical keyboards.
Customizable RGB Backlit
The keyboard uses the latest lighting solution, you can switch dozens of lighting effects without installing any drivers. The lights are divided into 6 custom areas, each of which can be changed independently of 7 colors, so there are a total of 42 color combinations, including single and mixed colors. In addition, it also has a variety of built-in lighting changes modes, including voice mode, press mode, streamer mode, breathing mode, cycle mode, horse racing mode.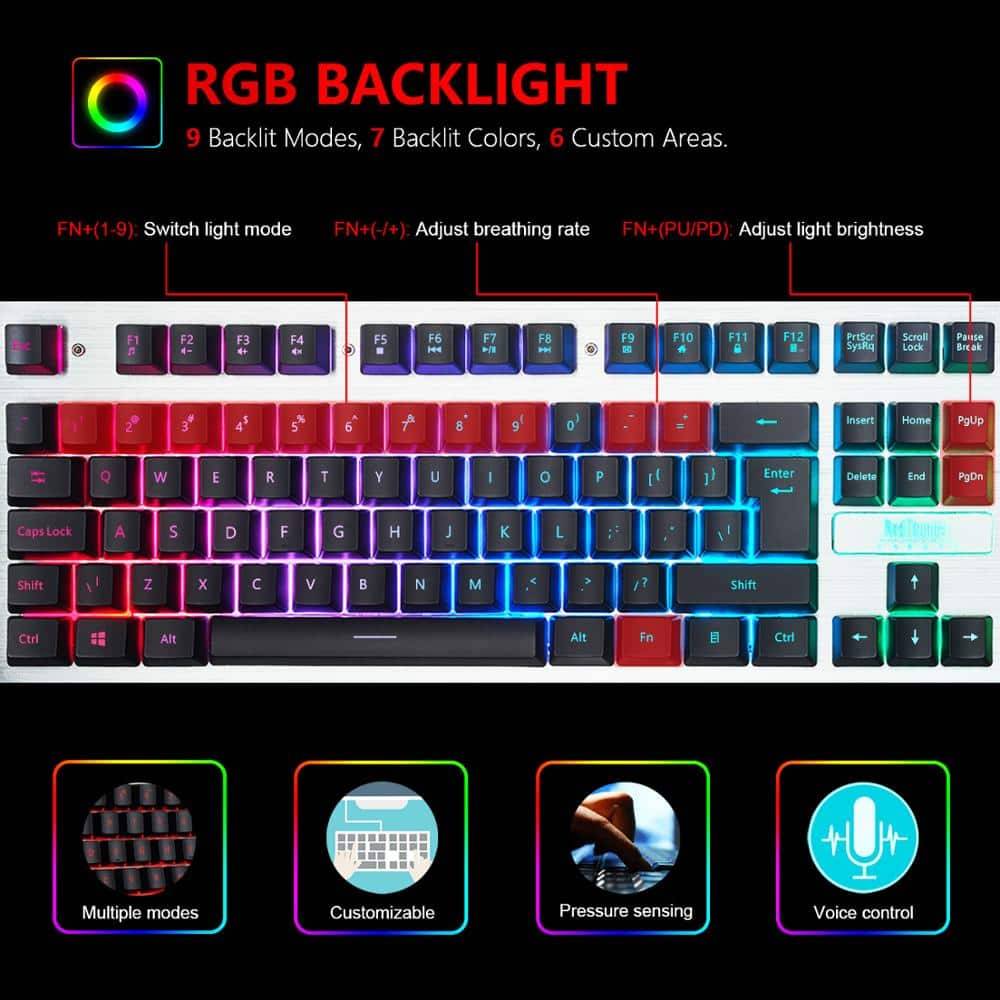 Stylish and Durable Design
K900 RGB Mechanical Gaming Keyboard got rid of the appearance of the ordinary keyboard and made bold innovations, it looks like a piston, elements such as the hand-rest and the phone holder are perfectly integrated into the design, making the keyboard, not o have the beauty of technology, but also more practical. Weighing a bit more than a kilogram, it is a real tank. We built it in order to ensure perfect stability on your desktop.
More Efficient Input
Type precisely, comfortably and quickly with the K900 RGB Mechanical Gaming Keyboard, you will enjoy a new fluidity. The 12 multimedia shortcuts you need to adjust your audio without interrupting your game. The 25 anti-ghosting keys contain almost all keys commonly used in games, press them at the same time, each key can respond accurately and quickly.
Easy to use
Driver Free, Plug&Play. Fully Compatible with: Win10/8/7/Vista/ME/Mac/Linux/IBM. FN+WIN: Lock/unlock function for WINDOWS key to avoid miss clicks/distractions during gaming. Automatically to enter sleeping mode 10 minutes without operation and backlights off, any key press will awaken and backlights on.