GAME ON!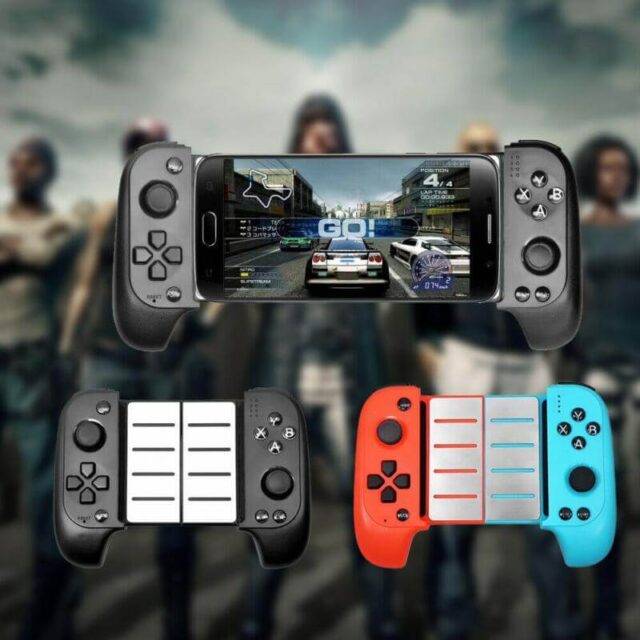 Level up and take the console experience everywhere you go with this high-end Wireless Bluetooth Game Controller! One to respawn your gaming passion and put you leagues ahead of your competition, this super responsive and adaptable controller literally brings fun and action to your fingertips!
Turning your phone into a mini-gaming console, this expandable controller is compatible with the largest of phone screens. Providing hours of 6-finger gaming on a single charge, moving, aiming, and shooting simultaneously on your smartphone becomes a breeze.
Excellent for first-person shooter (FPS) games like PUBG, Arena of Valor or Mobile Legends, its non-slip 360° silicon joystick and highly tactile buttons similar to the Nintendo Switch console bring a unique and more immersive gaming experience!
Compatible with Android and iOS devices through its advanced yet easy Bluetooth 4.0 pairing feature, this mobile gaming controller functions swiftly while helping relieve hand fatigue.
With a telescopic design that stretches to accommodate your phone and a mighty 300mAH battery, play longer and stay on top of the leaderboards now!
Features
✅Fast 1.5 Hours Charging Time
✅Over 12 Hours of Active Gameplay
✅Portable and Anti-Skid Design
✅Perfect for Phones 3.5inches – 6.7inches
✅Convenient USB Charger Included
✅Can Be Used While Charging
✅Sturdy Smartphone Grip for Better Performance
✅Bluetooth 4.0 Equipped
✅No App Required, Easy Re-Mapping
Package Contents
✅ 1 * 7007X Wireless Bluetooth Game Controller
✅ 1 * User Manual
✅ 1 * Charging cable